How InceLink works
InceLink is fully customisable to your workflow.
Workspace
Secure file sharing accessible from any device
An InceLink workspace can manage an M&A transaction, capital raise, due diligence project, or act as an investor reporting portal. Easily upload and organise files securely in the cloud, and hand them over to appropriate parties. Set up takes just minutes, and you can manage your deal from your PC, Mac, iPhone, iPad or other mobile device.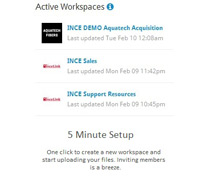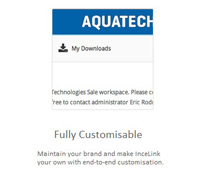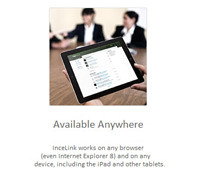 Dashboard
All your deals in one place with one login
The dashboard is the hub of your InceLink activity. Access workspaces, view recent deal activity in your notifications feed, or access your messages and contacts from a single page.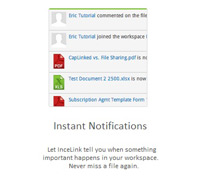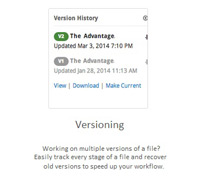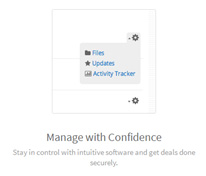 Files
Securely manage documents shared between multiple parties
Drag and drop files into your workspace, then easily assign permissions by folder to appropriate viewing groups. Use InceLink's indexing system to automatically implement a flexible numbering system across all files and folders. View files directly in your browser – no plugins are required throughout the entire InceLink system.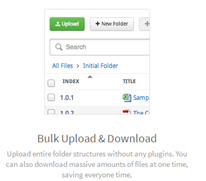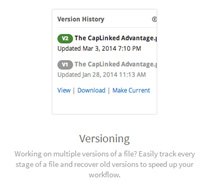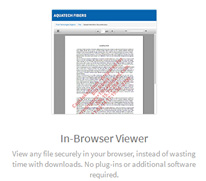 Permissions
Complete control over who can access your files
Create custom permission settings for your deal. Easily create permission groups and add members to them seamlessly. In minutes, set up an entire workspace with permissions for view, watermarking and upload capabilities. Create multiple permission groups inside a workspace, perfect for different due diligence requests.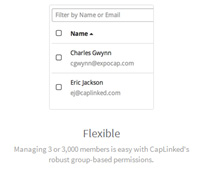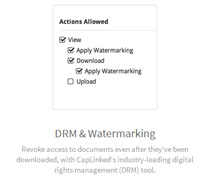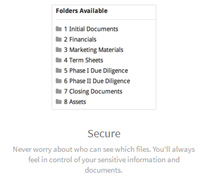 Updates
Send secure messages to your workspace members
Communicate with workspace members directly by posting an update in your workspace. Send correspondences to specific individuals, groups (e.g. Legal Department) or all workspace members. We archive your message so you can keep track of communications without digging through old emails.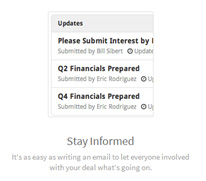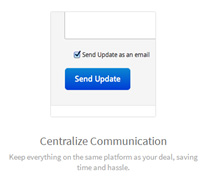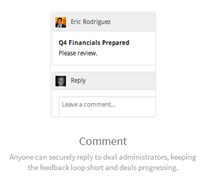 Activity tracker
Detailed reports on everything and everyone
See every event that happens in your workspace as it happens with high-level and detailed reports. Quickly determine who is engaged with the deal, who has viewed an important document, and retain a full audit trail of activities throughout the life cycle of a transaction.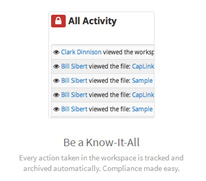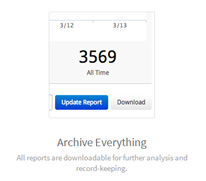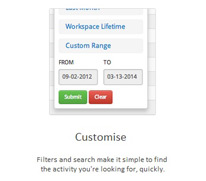 Contacts
Everyone you do business with, all in one place
Securely store your existing contacts on InceLink to make it easy to send invitations to your workspaces and syndicate deals. Create customisable groups for your connections, making it easy to track your contacts in lists that make sense to you (e.g. NYC Developers, Acme Corp Dev, Biotech Investors, etc.). Compatible with Microsoft Outlook, Google Gmail, LinkedIn, and others so you can get set up quickly.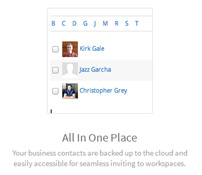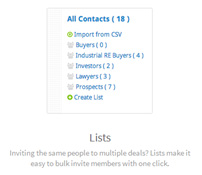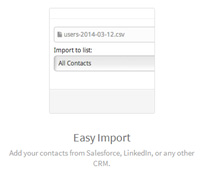 Messaging
Collaborate with colleagues and clients
Exchange messages and hold discussions on topics relevant to your transactions with the people you choose. Keep your communication centralised on one platform to speed up your deal so you can close faster – saving yourself money.